Vitamin Z - Rites Of Passage (LP, Album, SP ) (Very Good Plus (VG+))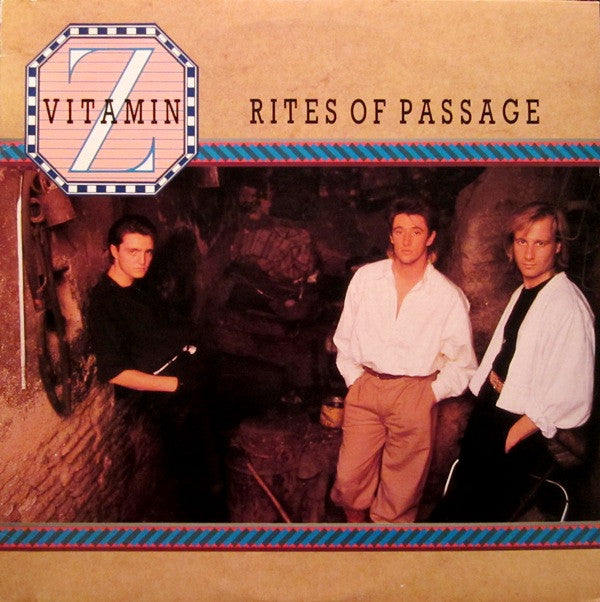 Description
Media Condition: Very Good Plus (VG+)
Sleeve Condition: Very Good Plus (VG+)
Beautiful copy of this underrated 1985 LP. Housed in original picture sleeve with only slight storage wear. Record has been well cared for and sounds great. Includes full picture inner sleeve.
 
Notes:
Recorded at Abbey Road Studios & Hot Nights, Fulham.
Originally mastered at Artisan Sound Recorders.
Thanks to Callie Mather & Elaine Black.
© 1985 Phonogram Ltd. (London)

A1. Burning Flame 3:51
A2. Circus Ring 6:02
A3. Hi Hi Friend 4:54
A4. Every Time That I See You 3:44
B1. Casablanca 5:31
B2. Angela 4:46
B3. Anybody Out There? 5:23
B4. Something We Can Do 5:12

Barcode and Other Identifiers:
Barcode 0 7599-24057-1
Matrix / Runout SRC (Artisan Sound Recorder logo)
Matrix / Runout GHS-24057-B-RE1-SR1 1-1
Barcode 075992405713
Matrix / Runout GHS-24057-A-SR2 1-4

Mastered At Artisan Sound Recorders
Recorded At Abbey Road Studios
Recorded At Hot Nights Studios, London
Pressed By Specialty Records Corporation
Published By Chappell Music Ltd.
Copyright (c) Phonogram Ltd. (London)
Phonographic Copyright (p) Phonogram Ltd. (London)
Manufactured By Warner Bros. Records Inc.

BX7
Data provided by Discogs
Vitamin Z - Rites Of Passage (LP, Album, SP ) (Very Good Plus (VG+))