Various - Roots Of S.O.B. Vol 2 (LP, Comp) (Near Mint (NM or M-))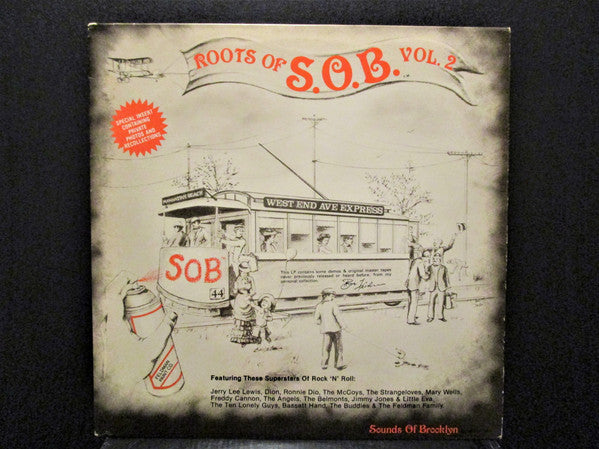 Description
Media Condition: Near Mint (NM or M-)
Sleeve Condition: Near Mint (NM or M-)
Very nice copy of this 1984 compilation. Sleeve still in shrink wrap, includes insert (small crease on outer page). Record is super clean and sounds great.
 
Notes:
Copyright 1984 RCF Sounds Of Brooklyn, Inc.
A5: On the jacket cover lists the artist as "The Ten Lonely Guys" the label omits the word "The". Also know collectively as "Ten Broken Hearts" featuring Neil Diamond on lead vocals.
A1. The Strangeloves - Hang On Sloopy 3:50
A2. The Angels (3) - My Boyfriends Back 2:13
A3. The McCoys - Fever 2:47
A4. Bassett Hand - Happy Organ Shake 2:05
A5. The Ten Lonely Guys - Ten Lonely Guys 3:44
A6. The McCoys - Sorrow 2:02
A7. Freddy Cannon - Ride Roller Coaster Ride 2:13
A8. Bassett Hand - Soul Paradise 2:31
A9. Jerry Lee Lewis - I'm On Fire 2:23
B1. The Strangeloves - I Want Candy 2:37
B2. The Angels (3) - The Guy With The Black Eye 2:23
B3. Dion (3) - Swingin' Street (Demo) 2:17
B4. Ronnie Dio And The Prophets - Gonna Make It Alone 2:13
B5. Mary Wells - How Can I Forget Him 2:33
B6. The Buddies (12) - You're So Thoughtless 1:33
B7. Jimmy Jones, Little Eva - Don't You Just Know It 2:30
B8. Freddy Cannon, The Belmonts - Let's Put The Fun Back In Rock 'N' Roll 4:41
B9. The Feldman Family (Mahri, Kyle & Bob) - (I Love You) That Old Fashioned Way 2:13

Barcode and Other Identifiers:
A13
Data provided by Discogs
Various - Roots Of S.O.B. Vol 2 (LP, Comp) (Near Mint (NM or M-))