Van Morrison - Interview CD (CD, Maxi, Promo) (Near Mint (NM or M-))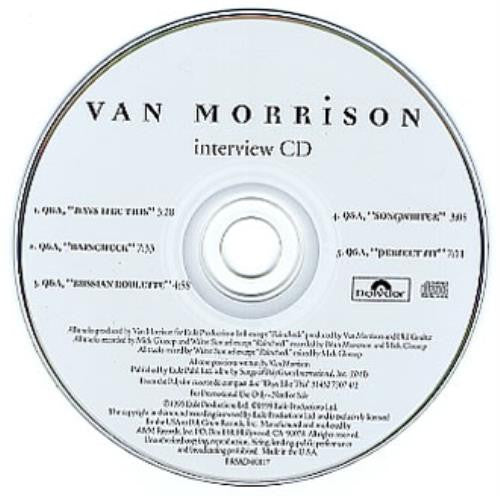 Description
Media Condition: Near Mint (NM or M-)
Sleeve Condition: Very Good Plus (VG+)
Great copy of this 1995 Promo Interview CD. Housed in thin slimline case has large hype/info sticker on front.
 
Notes:
For Promotional Use Only.
An Exclusive Interview With Van Morrison Featuring Questions/Answers And Songs From His Current Album Days Like This;
Contains Full Length Versions Of The Songs;
Interview Conducted by Michelle Rocca.
1. Q & A, Days Like This 3:28
2. Q & A, Raincheck 7:33
3. Q & A, Russian Roulette 4:58
4. Q & A, Songwriter 3:08
5. Q & A, Perfect Fit 7:11

Barcode and Other Identifiers:
CD12
Data provided by Discogs
Van Morrison - Interview CD (CD, Maxi, Promo) (Near Mint (NM or M-))