U2 - War (CD, Album, Club, RE) (Near Mint (NM or M-))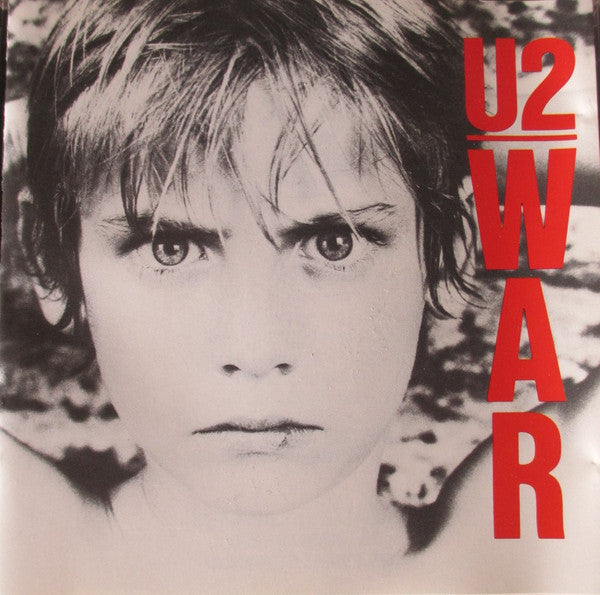 Description
Media Condition: Near Mint (NM or M-)
Sleeve Condition: Near Mint (NM or M-)
Very nice copy of this club edition CD. Disc and Inserts are close to new. Slight matrix variant "422 811 148-2 05! GD"
 
Notes:
Boy Photograph: Ian Finlay
Band Photograph: Anton Corbijn

Tray liner has time for track 10 as 2:08
Larry Mullen Jr plays Yamaha drums

On back cover: 
Island Records, Inc. Distributed by Atco Records 
Division of Atlantic Recording Corporation (W)® A Warner Communications Company 
℗ © Island Records Ltd. Printed in U.S.A. *TM Owned by Antilles Communications Ltd. Warning: Unauthorized reproduction of this recording is prohibited by Federal law and subject to criminal prosecution. Printed in U.S.A. 90067-2 

Mfd. for BMG Direct Marketing Inc.
under license 
6550 East 30th Street, Indianapolis, Indiana 46219 

Track 2: Excerpt from "Soldier Girls" courtesy of Contempory Films. 

All songs © 1983 Blue Mountain Music Ltd. All rights for the U.S.A. & Canada controlled by Island Music Inc. (BMI) All rights reserved. Used by permission. 
1. Sunday Bloody Sunday 4:38
2. Seconds 3:24
3. New Year's Day 5:38
4. Like A Song... 4:48
5. Drowning Man 4:12
6. The Refugee 3:40
7. Two Hearts Beat As One 5:00
8. Red Light 4:09
9. Surrender 6:01
10. "40" 2:35

Barcode and Other Identifiers:
Mould SID Code IFPI 0394
Matrix / Runout 422 811 148-2 05! HJ

Licensed To BMG Direct Marketing, Inc.
Manufactured For BMG Direct Marketing, Inc.
Distributed By ATCO Records
Recorded At Windmill Lane Studios
Mastered At Warner Bros. Recording Studios

CD9
Data provided by Discogs
U2 - War (CD, Album, Club, RE) (Near Mint (NM or M-))