The Prodigy - The Fat Of The Land (The Remixes) (12", Ltd, Sil) (Mint (M))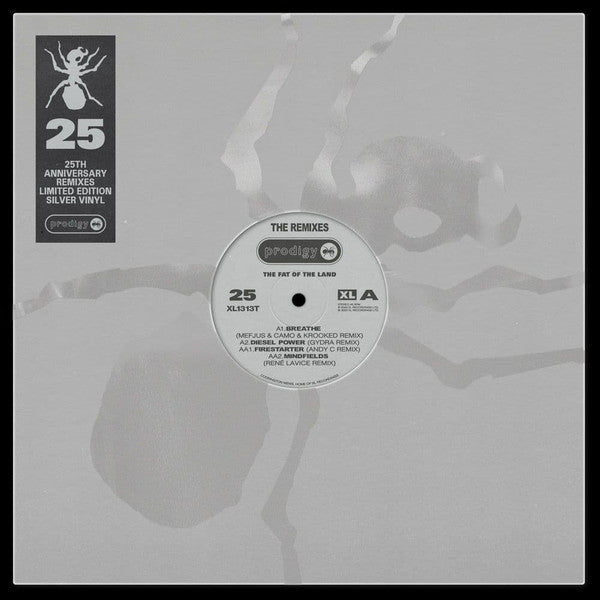 Description
Media Condition: Mint (M)
Sleeve Condition: Mint (M)
Brand NEW factory sealed copy of this 2023 Silver Vinyl 12". Has Hype sticker on top left corner.
 
Notes:
25th Anniversary Remixes
limited silver vinyl 12" in spot-varnished die-cut sleeve
Runouts are etched

AA1 Composition contains elements of The Breeders "SOS" and "Close (To The Edit)" by The Art Of Noise

A1 and AA1 ℗ & © 2022 Liam Howlett under exclusive license to XL Recordings Ltd.
A2 and AA2 ℗ & © 2022 XL Recordings Ltd. 
A1. Breathe (Mefjus & Camo & Krooked Remix)
A2. Diesel Power (Gydra Remix)
AA1. Firestarter (Andy C Remix)
AA2. Mindfields (René Lavice Remix)

Barcode and Other Identifiers:
Barcode 1 91404 13131 2
Matrix / Runout BM85570-01 A1
Matrix / Runout BM85570-01 B1

Phonographic Copyright (p) XL Recordings Ltd.
Copyright (c) XL Recordings Ltd.
Pressed By Optimal Media GmbH
Phonographic Copyright (p) Liam Howlett
Copyright (c) Liam Howlett
Licensed To XL Recordings Ltd.
Published By BMG Rights Management (UK) Limited
Published By Kobalt Music Publishing Ltd.
Published By Copyright Control
Published By Perfect Songs
Published By Zomba Music
Published By Momentum Music Ltd.
Produced At Earthbound Studios
Mixed At Earthbound Studios
Recorded At Strongroom
Mastered At Forwa3dstudios, London

Data provided by Discogs
The Prodigy - The Fat Of The Land (The Remixes) (12", Ltd, Sil) (Mint (M))
Regular price $15.19 Sale