The Beatles - Sgt. Pepper's Lonely Hearts Club Band (CD, Album, Enh, RE, RM) (Mint (M))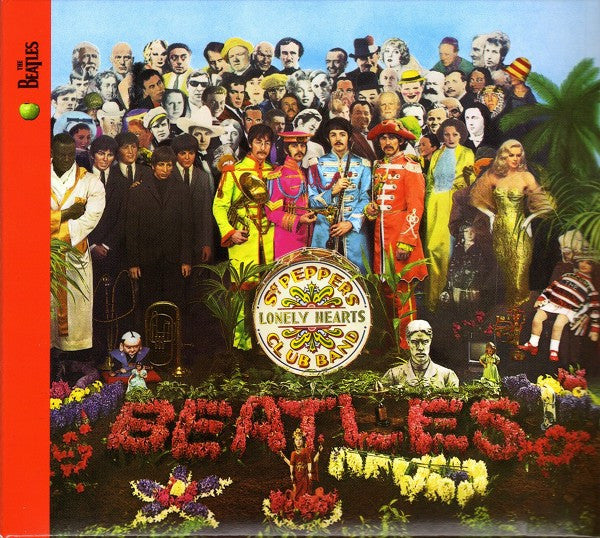 Description
Media Condition: Mint (M)
Sleeve Condition: Near Mint (NM or M-)
Brand NEW factory sealed copy of this Remastered Enhanced CD. Has "Newly Remastered" hype sticker in the shape of a green apple on front.
 
Notes:
LP originally released in the US by Capitol Records in 1967 as SMAS 2653.

Digital Remaster ℗ 2009 The copyright in this sound recording is owned by EMI Records Ltd. © 2009 EMI Records Ltd.
Artwork © 2009 Apple Corps Ltd. All photographs © Apple Corps Ltd.
This remastered album has been created from the original stereo analogue master tapes.

Packaged in three panel card wallet. Base color is a red used with Sgt Pepper releases since original issue.
Outside: Left panel has left-side vertical band on with base color, Apple logo and Beatles logo right aligned, with front cover artwork. Middle panel is back cover artwork with barcode and copyright and other information. Third panel is band portrait.
Inside: left side diagonal cut pocket with Apple logo centered. Contains 24-page booklet with liner notes, production notes and credits, lyrics and photographs. Center and right panel is band portrait from original issue.
1. Sgt. Pepper's Lonely Hearts Club Band 2:02
2. With A Little Help From My Friends 2:44
3. Lucy In The Sky With Diamonds 3:28
4. Getting Better 2:48
5. Fixing A Hole 2:36
6. She's Leaving Home 3:35
7. Being For The Benefit Of Mr. Kite! 2:37
8. Within You Without You 5:04
9. When I'm Sixty-Four 2:37
10. Lovely Rita 2:42
11. Good Morning Good Morning 2:41
12. Sgt. Pepper's Lonely Hearts Club Band (Reprise) 1:19
13. A Day In The Life 5:39
Data. Sgt. Pepper's Lonely Hearts Club Band Mini-Documentary

Barcode and Other Identifiers:
Barcode 0 94638 24192 8
Barcode 094638241928
Mastering SID Code IFPI L329
Mastering SID Code IFPI L327
Mastering SID Code IFPI L327
Mastering SID Code IFPI L327
Mastering SID Code IFPI L327
Mastering SID Code L327
Matrix / Runout DIDX-233653 3 B01
Matrix / Runout DIDX-233653 2 C02
Matrix / Runout DIDX-233653 2 B15
Matrix / Runout DIDX-233653 2 B04
Matrix / Runout DIDX-233653 2 B07
Matrix / Runout DIDX-233653 2 B06
Mould SID Code IFPI 50C1
Mould SID Code IFPI 5080
Mould SID Code IFPI 5080
Mould SID Code IFPI 50F6
Mould SID Code IFPI 50A5
Mould SID Code IFPI 50A6

Copyright (c) EMI Records Ltd.
Phonographic Copyright (p) EMI Records Ltd.
Copyright (c) Apple Corps Ltd.
Published By Sony/ATV Music Publishing LLC
Published By Northern Songs Ltd.
Pressed By Sony DADC
Manufactured By Capitol Records, LLC

CD7
Data provided by Discogs
The Beatles - Sgt. Pepper's Lonely Hearts Club Band (CD, Album, Enh, RE, RM) (Mint (M))
Regular price $14.24 Sale