Spanky & Our Gang - Spanky And Our Gang (LP, Album, RE, Hau) (Very Good Plus (VG+))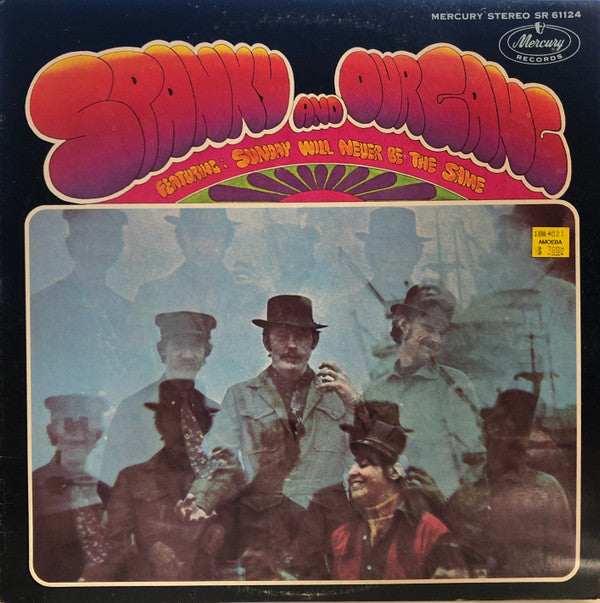 Description
Media Condition: Very Good Plus (VG+)
Sleeve Condition: Near Mint (NM or M-)
Great copy of this reissued LP. Record in nice shape, sleeve still in shrink wrap with "Sound Savers" hype sticker and Price sticker on front.
 
Notes:
Mid-1980's reissue. No gatefold. Runout variation of [r2898397. This version has 'STERLING' stamped.

Quoted from front cover:
"Featuring: Sunday Will Never Be The Same"

A1. Lazy Day 3:05
A2. It Ain't Necessarily Byrd Avenue 2:33
A3. Ya Got Trouble (In River City) 4:35
A4. Sunday Will Never Be The Same 2:55
A5. Commercial 1:29
A6. If You Could Only Be Me 2:03
B1. Making Every Minute Count 2:32
B2. 5 Definitions Of Love 2:18
B3. Brother Can You Spare A Dime 5:00
B4. Distance 2:36
B5. Leaving On A Jet Plane 3:38
B6. Come And Open Your Eyes (Take A Look) 2:17

Barcode and Other Identifiers:
Rights Society BMI
Rights Society ASCAP
Pressing Plant ID 53
Other 0518
Matrix / Runout ⟷ A-2 ᐉ SR-61124-AS-K STERLING
Matrix / Runout A-2 ᐉ ⟷ SR-61124-BS-K STERLING

Manufactured By PolyGram Records, Inc.
Marketed By PolyGram Records, Inc.
Lacquer Cut At Sterling Sound
Pressed By Hauppauge Record Manufacturing Ltd.

A13
Data provided by Discogs
Spanky & Our Gang - Spanky And Our Gang (LP, Album, RE, Hau) (Very Good Plus (VG+))