Sonny Boy Williamson & Yardbirds* With Eric Clapton - Live In London! (CD, Album) (Near Mint (NM or M-))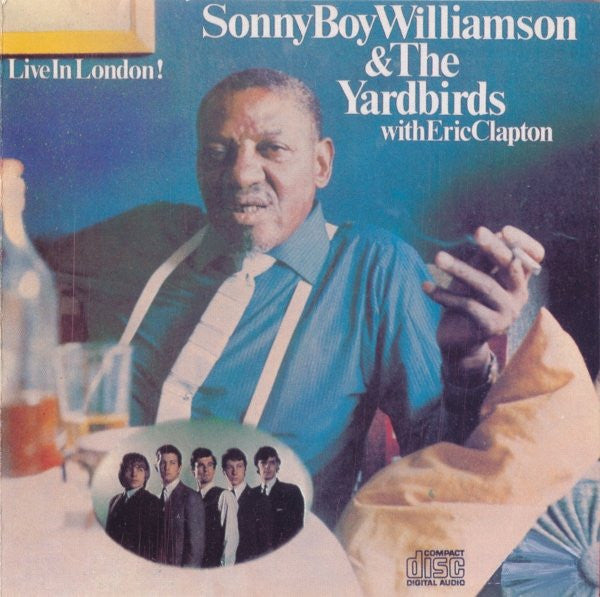 Description
Media Condition: Near Mint (NM or M-)
Sleeve Condition: Very Good (VG)
Nice copy of this CD. Disc is super clean. Front insert has corner cut bottom left. Radio station call letters hand written on front.
 
Notes:
Recorded December 8th, 1963 at Craw-Daddy Club, Richmond (London)

Copyright on CD is 1980. Actual CD release date is unknown. 

Issued in a standard jewel case with a grey tray. Includes a 4-page booklet.
1. Bye, Bye Bird 3:31
2. Mister Downchild 3:56
3. The River Rhine 5:18
4. 23 Hours Too Long 5:06
5. A Lost Care 2:14
6. Pontiac Blues 3:47
7. Take It Easy Baby 5:40
8. Out On The Water Coast 2:59
9. I Don't Care No More 3:42
10. Honey In Your Hips 2:24
11. Western Arizona 3:01

Barcode and Other Identifiers:
Barcode 0 14082-2020-2 3
Barcode 014082202023
Matrix / Runout LRCD-2020 1T:3 MFD BY JVC

Manufactured By Optimism, Incorporated
Distributed By Optimism, Incorporated
Licensed From L+R Records
Manufactured By JVC

CD12
Data provided by Discogs
Sonny Boy Williamson & Yardbirds* With Eric Clapton - Live In London! (CD, Album) (Near Mint (NM or M-))