Roger Taylor - Roger Taylor's Fun In Space (LP, Album, Promo) (Very Good Plus (VG+))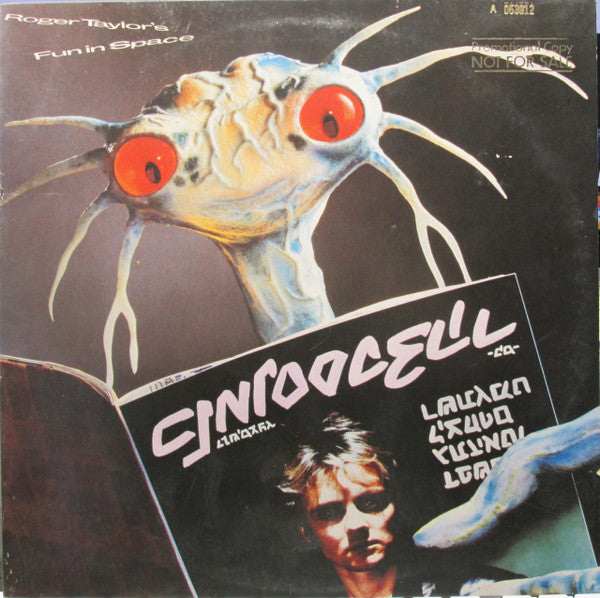 Description
Media Condition: Very Good Plus (VG+)
Sleeve Condition: Very Good (VG)
Nice copy of this Gold Stamped promo LP. Housed in original picture sleeve with price & name "Jeff" sticker on front. Spine has split in middle. Includes original picture inner sleeve. Record is very clean and sounds great.
 
Notes:
"For Radio Station Use Only" printed on labels, with gold promo stamp on front cover. 

Allied pressing (AR on labels); comes with printed inner sleeve.

℗ & © 1981 Elektra/Asylum Records.

A1. No Violins 4:33
A2. Laugh Or Cry 3:05
A3. Future Management 3:01
A4. Let's Get Crazy 3:39
A5. My Country 1 & 2 6:47
B1. Good Times Are Now 3:25
B2. Magic Is Loose 3:29
B3. Interlude In Constantinople 2:04
B4. Airheads 3:37
B5. Fun In Space 6:19

Barcode and Other Identifiers:
Matrix / Runout 5E-522-A (AR)
Matrix / Runout 5E-522-B (AR)
Pressing Plant ID AR
Rights Society BMI

Pressed By Allied Record Company
Manufactured By Elektra/Asylum/Nonesuch Records
Phonographic Copyright (p) Elektra/Asylum Records
Phonographic Copyright (p) Elektra Records
Copyright (c) Elektra/Asylum Records
Copyright (c) Queen Music Ltd.
Published By Queen Music Ltd.
Published By Beechwood Music Corp.
Recorded At Mountain Studios
Mastered At Europadisk
Mastered At Sterling Sound

BX5
Data provided by Discogs
Roger Taylor - Roger Taylor's Fun In Space (LP, Album, Promo) (Very Good Plus (VG+))