R.E.M. - Lifes Rich Pageant (LP, Album, Lud) (Near Mint (NM or M-))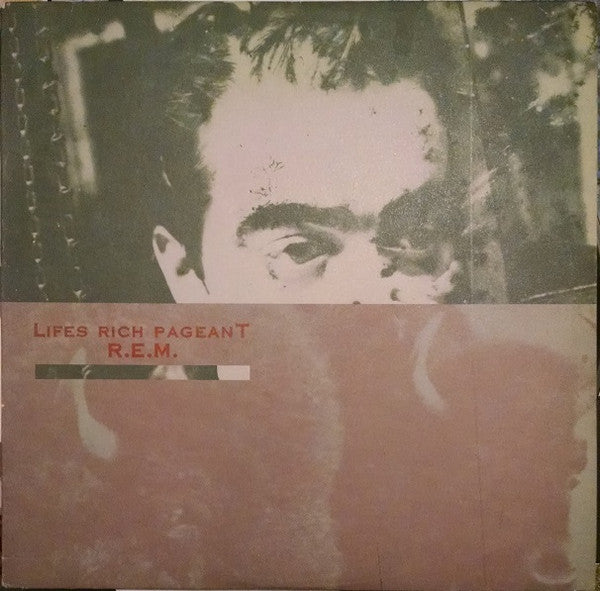 Description
Media Condition: Near Mint (NM or M-)
Sleeve Condition: Very Good (VG)
Record is incredibly clean and sounds like new! Sleeve has no splits or dents, has price written what looks to be grease pen, with some minor wear around it. (pictures available upon request). Includes original inner sleeve, small split on bottom where record has cut through, and creasing in 2 corners.
 
Notes:
Unidentified MCA pressing with metalwork from Allied Record Company (denoted by "ɑ" stamp in runouts), with lacquer cut by Robert Ludwig ("RL" etch in runouts).
For a similar US pressing without Ludwig's signature, see [r=395082.
"ɑ" and "MASTERDISK" stamped in runouts; all else etched.

Recorded at the Belmont Mall, Belmont, Indiana. Mixed at Can-Am Recorders, L.A., Calif. Mastered at Masterdisk, New York.
Issued with custom inner sleeve.
. Dinner Side
A1. Begin The Begin 3:24
A2. These Days 3:21
A3. Fall On Me 2:49
A4. Cuyahoga 4:17
A5. Hyena 2:48
A6. Underneath The Bunker 1:24
. Supper Side
B1. The Flowers Of Guatemala 3:53
B2. I Believe 3:32
B3. What If We Give It Away? 3:31
B4. Just A Touch 2:56
B5. Swan Swan H 2:39
B6. Superman 2:50

Barcode and Other Identifiers:
Barcode 0 76732-5783-1
Barcode 076732578315
Rights Society BMI
Rights Society ASCAP
Matrix / Runout IRS5705
Matrix / Runout IRS5706
Matrix / Runout IRS 5705-MD3#2 MASTERDISK RL ɑ Δ13329 1-
Matrix / Runout IRS 5706-MD-1#2 MASTERDISK RL ɑ 1- Δ13329-X
Matrix / Runout IRS-5705-MD-1 MASTERDISK RL ɑ o∆13329 1-4
Matrix / Runout IRS-5706-MD-1 MASTERDISK RL ɑ 1-3 o∆13329-X
Matrix / Runout IRS-5705-MD-1 MASTERDISK RL ɑ Δ13329 1-2
Matrix / Runout IRS-5706-MD-1 MASTERDISK RL ɑ 1-3 Δ13329-X
Matrix / Runout IRS-5705-MD-1 MASTERDISK RL ɑ ∆ 13329 1-2
Matrix / Runout IRS-5706-MD-1 MASTERDISK 1-1 ɑ ∆ 13329-X
Matrix / Runout IRS-5705-MD-1 MASTERDISK RL ɑ Δ13329 1-4
Matrix / Runout IRS-5706-MD-1 MASTERDISK 1-3 ɑ ∆13329-X
Matrix / Runout IRS-5705-MD-1 MASTERDISK RL ɑ Δ13329 1-2
Matrix / Runout IRS-5706-MD-1 MASTERDISK 1-2 ɑ Δ13329-X
Matrix / Runout IRS-5705-MD-1 MASTERDISK RL ɑ Δ13329 1-1
Matrix / Runout IRS-5706-MD-4 ɑ ∆13329-X MASTERDISK 1-1

Manufactured By MCA Records, Inc.
Distributed By MCA Records, Inc.
Copyright (c) International Record Syndicate, Inc.
Phonographic Copyright (p) International Record Syndicate, Inc.
Recorded At Belmont Mall Studio
Mixed At Can-Am Recorders
Mixed At Image Recording Studios
Mastered At Masterdisk
Mastered At Sheffield Lab Matrix
Mastered At Allied Record Company
Published By Night Garden Music
Published By Unichappell Music, Inc.
Published By Teenie Bopper Music

A13
Data provided by Discogs
R.E.M. - Lifes Rich Pageant (LP, Album, Lud) (Near Mint (NM or M-))
Regular price $33.24 Sale