No Artist - Fright Night In The House Of Horrors (CD) (Very Good Plus (VG+))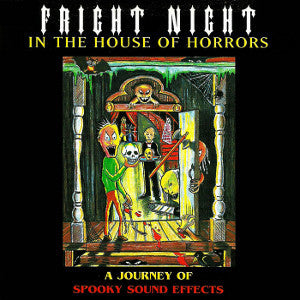 Description
Media Condition: Very Good Plus (VG+)
Sleeve Condition: Very Good Plus (VG+)
Nice copy of this 1994 CD. Housed in thin lined jewel case. J-card in great shape.
 
Notes:
"A Journey Of Spooky Sound Effects"
Listen and enter a place where horrifying sounds and ghoolish monsters wait around each corner. Your skin will crawl, and your bones will shake.
Great for Halloween parties or to scare your friends.

Issued in a standard J-card case with an insert.
1. Fright Night In The House Of Horrors (A Journey Of Spooky Sound Effects) 15:16

Barcode and Other Identifiers:
Barcode 7 60042-0711-2 2
Matrix / Runout AMERIC DISC ADFL 00ET4<530>HA711
Mould SID Code IFPI 8130
Mould SID Code L484

Phonographic Copyright (p) Lifetime Classics, Inc.
Copyright (c) Lifetime Classics, Inc.
Pressed By Americ Disc, Florida

CD11
Data provided by Discogs
No Artist - Fright Night In The House Of Horrors (CD) (Very Good Plus (VG+))