Neil Young - After The Gold Rush (LP, Album, Ter) (Very Good Plus (VG+))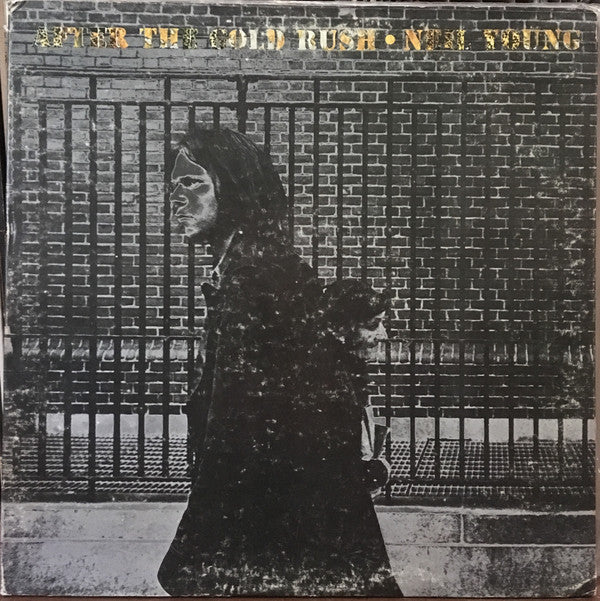 Description
Media Condition: Very Good Plus (VG+)
Sleeve Condition: Very Good Plus (VG+)
Fantastic copy of this 1970 LP. Gatefold sleeve is in great shape with only minor shelf wear, no splits, rips or writing. Side A is MINT-, Side B has two non-audible surface scuffs keeping this to a VG+. Includes original WB inner sleeve and Poster.
 
Notes:
© 1970 Warner Bros. Records Inc.

RS 6383 inside gatefold and on labels, 6383 on spine, poster, and back cover.

Terre Haute pressing of 2nd version (RE2) without "Warner Communications" rim text on label.

Includes extended version of "When You Dance..." 
(time on label 3:44, actual runtime 4:06).

Gatefold - 1st version, credits only Nils Lofgren for piano. 4000 Warner Blvd. address at bottom.

Includes foldout lyric poster insert.

Most of these songs were inspired by the Dean Stockwell-Herb Berman screenplay "After The Goldrush".

Track B6 is written as "Crippled Creek Ferry" on the back cover and "Cripple Creek Ferry" on the label.
A1. Tell Me Why 2:54
A2. After The Goldrush 3:45
A3. Only Love Can Break Your Heart 3:05
A4. Southern Man 5:41
A5. Till The Morning Comes 1:17
B1. Oh, Lonesome Me 3:47
B2. Don't Let It Bring You Down 2:56
B3. Birds 2:34
B4. When You Dance I Can Really Love 4:06
B5. I Believe In You 2:24
B6. Cripple Creek Ferry 1:34

Barcode and Other Identifiers:
Matrix / Runout (31,009RE2)
Matrix / Runout (31,010RE2)
Matrix / Runout RS-6383 T1 [Artisan Sound logo] 31009-Re2-1
Matrix / Runout RS-6383 T1 [Artisan Sound logo] ° 31010-Re-2-1
Matrix / Runout RS-6383 T1 [Artisan Sound logo] 31009-Re1-2
Matrix / Runout RS-6383 T1 [Artisan Sound logo] ° 31010-Re-2-1

Copyright (c) Warner Bros. Records Inc.
Mastered At Artisan Sound Recorders
Mastered At Customatrix
Pressed By Columbia Records Pressing Plant, Terre Haute

A14
Data provided by Discogs
Neil Young - After The Gold Rush (LP, Album, Ter) (Very Good Plus (VG+))
Regular price $18.99 Sale