Kenny Burrell - Midnight Blue (CD, Album, RE, RM) (Mint (M))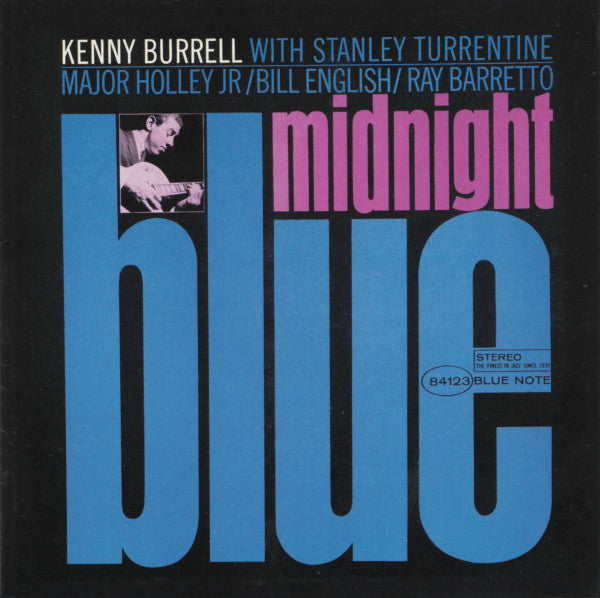 Description
Media Condition: Mint (M)
Sleeve Condition: Mint (M)
Brand NEW sealed copy of this 1999 CD. Has original price sticker on rear, and y-fold security sticker on top. Case has small crack under cellophane, replacement will be shipped with purchase.
 
Notes:
℗ & © 1999 Capitol Records, Inc.

Recorded on April 21, 1967 at the Van Gelder Studio, Englewood Cliffs, New Jersey. All transfers from analog to digital were made at 24-bit resolution. Tracks 1 to 7 originally issued as Blue Note BLP 4123 and BST 84123. Tracks 8, 9 not part of the original album.
1. Chitlins Con Carne 5:25
2. Mule 6:53
3. Soul Lament 2:39
4. Midnight Blue 3:59
5. Wavy Gravy 5:43
6. Gee Baby, Ain't I Good To You 4:21
7. Saturday Night Blues 6:13
8. Kenny's Sound 4:39
9. K Twist 3:35

Barcode and Other Identifiers:
Barcode 724349533523
Matrix / Runout 724349533523 MASTERED BY EMI MFG. 1-1-3
Mastering SID Code IFPI L044
Mould SID Code ifpi 1642
Mould SID Code ifpi 1684
Matrix / Runout 724349533523 MASTERED BY EMI MFG
Mastering SID Code IFPI L044
Mould SID Code IFPI 6100

Phonographic Copyright (p) Capitol Records, Inc.
Copyright (c) Capitol Records, Inc.
Manufactured By Capitol Records, Inc.
Recorded At Van Gelder Studio, Englewood Cliffs, New Jersey
Glass Mastered At EMI MFG.
Copyright (c) Mosaic Images

CD13
Data provided by Discogs
Kenny Burrell - Midnight Blue (CD, Album, RE, RM) (Mint (M))