Jack White (2) - Acoustic Recordings 1998-2016 (2xCD, Album, Comp, RM) (Mint (M))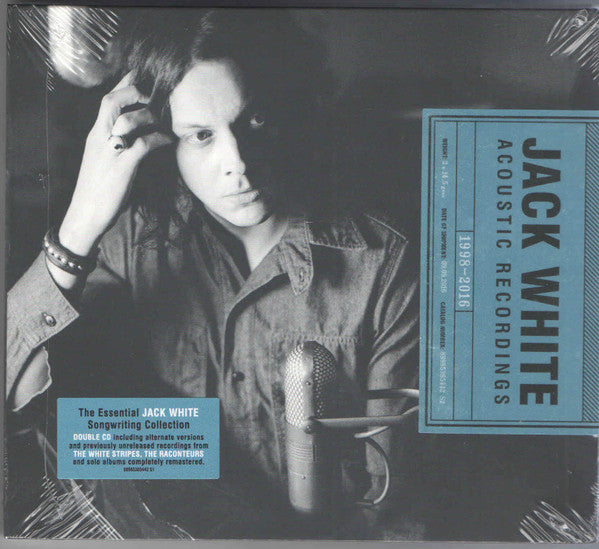 Description
Media Condition: Mint (M)
Sleeve Condition: Mint (M)
Brand NEW factory sealed copy. Has hype sticker and original price tag on front shrink.
 
Notes:
© 2016 Third Face, LLC / ℗ Compilation 2016 Third Man Records, under exclusive license to Columbia Records.

All songs remastered 2016 by Andrew Mendelson at Georgetown Masters in Nashville, TN.

Tracks listed sequentially from 1 to 26 on release.

6 panel double digipack with glued-in lyric booklet.
1-1. Sugar Never Tasted So Good 2:56
1-2. Apple Blossom (Remixed) 2:13
1-3. I'm Bound To Pack It Up (Remixed) 3:11
1-4. Hotel Yorba 2:15
1-5. We're Going To Be Friends 2:23
1-6. You've Got Her In Her Pocket 3:41
1-7. Well It's True That We Love One Another 2:43
1-8. Never Far Away 3:40
1-9. Forever For Her (Is Over For Me) 3:16
1-10. White Moon 4:02
1-11. As Ugly As I Seem 4:11
1-12. City Lights (Previously Unreleased White Stripes Track) 4:54
1-13. Honey, We Can't Afford To Look This Cheap 3:57
1-14. Effect & Cause 3:01
2-1. Love Is The Truth (Acoustic Mix) 1:39
2-2. Top Yourself (Bluegrass Version) 4:40
2-3. Carolina Drama (Acoustic Mix) 5:51
2-4. Love Interruption 2:39
2-5. On And On And On 3:56
2-6. Machine Gun Silhouette (Acoustic Mix) 3:04
2-7. Blunderbuss 3:07
2-8. Hip (Eponymous) Poor Boy (Alternate Mix) 3:03
2-9. I Guess I Should Go To Sleep (Alternate Mix) 2:37
2-10. Just One Drink (Acoustic Mix) 2:33
2-11. Entitlement 4:08
2-12. Want And Able 2:35

Barcode and Other Identifiers:
Barcode 8 89853 65442 0
Barcode 889853654420
Other 88985365442 RD1
Matrix / Runout DIDX-1081992 1 A01
Matrix / Runout DIDX-1081992 1 A04
Matrix / Runout DIDX-1082292 1 A01
Mastering SID Code IFPI L329
Mould SID Code IFPI 50BQ
Mould SID Code IFPI 50BN
Other 88985365442 RD2
Matrix / Runout DIDX-1081993 1 A03
Matrix / Runout DIDX-1081993 1 A02
Matrix / Runout DIDX-1082293 1 A02
Matrix / Runout DIDX-1082293 1 A02
Mastering SID Code IFPI L328
Mould SID Code IFPI 50BR
Mould SID Code IFPI 50BK
Mould SID Code IFPI 50BC
Mould SID Code IFPI 50BN
Other 88985 36544 2
Other 88985365442 S1
Other 88985365442 S2

Phonographic Copyright (p) Third Face, LLC
Copyright (c) Third Man Records
Licensed To Columbia Records
Distributed By Columbia Records
Remastered At Georgetown Masters
Glass Mastered At Sony DADC
Glass Mastered At Sony DADC

Data provided by Discogs
Jack White (2) - Acoustic Recordings 1998-2016 (2xCD, Album, Comp, RM) (Mint (M))
Regular price $12.34 Sale