Hirax - Raging Violence (LP, Album) (Near Mint (NM or M-))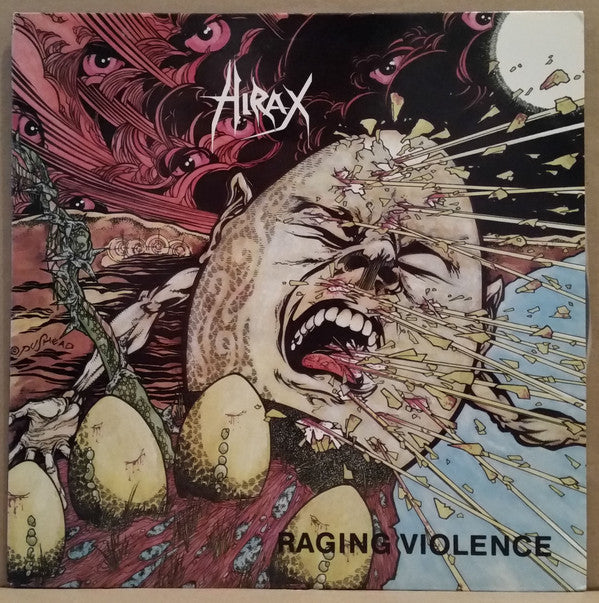 Description
Media Condition: Near Mint (NM or M-)
Sleeve Condition: Very Good Plus (VG+)
Beautiful copy of this 1985 Metal Blade Records LP. Housed in original full color jacket, that shows only slight signs of age/wear. Record is a gem, and plays as such. Side 2 label has a misprint as the red "blood" from Metal Blade axe logo is missing - pictures available upon request. NM lyric sheet insert included (no merch insert) Ships from the US.
 
Notes:
Includes a double sided photo/lyric insert and a Metal Blade Records merch sheet.

Runouts:
MASTERED BY CAPITOL stamped, otherwise etched.


A1. Demons-Evil Forces
A2. Blitzkrieg Air Attack
A3. Guardian Protector
A4. Bombs Of Death
A5. Defeat Of Amalek
A6. Raging Violence
A7. Call Of The Gods
B1. Warlords Command
B2. Suicide
B3. Executed
B4. The Gauntlet
B5. Destruction And Terror
B6. Destroy
B7. Bloodbath

Barcode and Other Identifiers:
Matrix / Runout MBR-1045-72058-1-B G-1 S-15153 1-1 [unidentified symbol] E_ MASTERED BY CAPITOL
Rights Society BMI
Matrix / Runout MBR-1045-72058-1-A G-1 S-15152 1-1 [unidentified symbol] E_ MASTERED BY CAPITOL

Pressed By Rainbo Records
Pressed By Rainbo Records
Mastered At Capitol Mastering
Recorded At Track Record (3)
Published By Bloody Skull MUSIC
Published By Bug Music

Data provided by Discogs
Hirax - Raging Violence (LP, Album) (Near Mint (NM or M-))
Regular price $47.49 Sale