Foreigner - Head Games (LP, Album, Club) (Near Mint (NM or M-))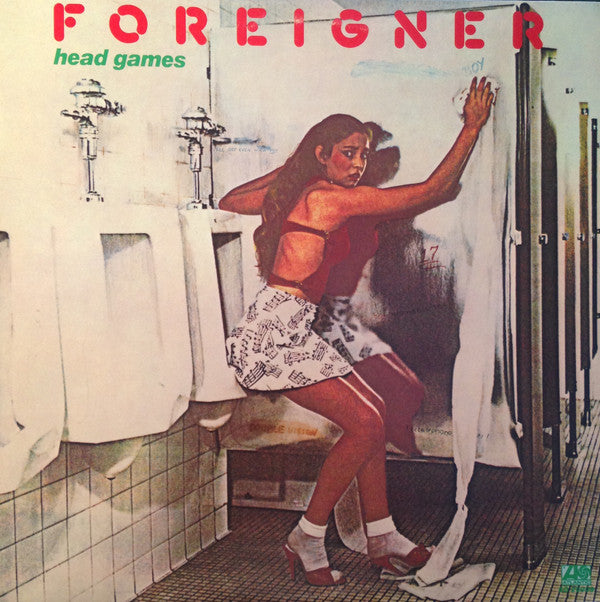 Description
Media Condition: Near Mint (NM or M-)
Sleeve Condition: Very Good Plus (VG+)
Beautiful copy of this 1979 CRC LP. Record is super clean and looks and sounds great. Jacket still in shrink wrap, small corner bump on top left. Includes original picture inner sleeve, has start of split middle bottom.
 
Notes:
Club Edition with CRC on the labels.
A1. Dirty White Boy 3:37
A2. Love On The Telephone 3:18
A3. Women 3:25
A4. I'll Get Even With You 3:40
A5. Seventeen 4:33
B1. Head Games 3:37
B2. The Modern Day 3:26
B3. Blinded By Science 4:54
B4. Do What You Like 3:58
B5. Rev On The Red Line 3:35

Barcode and Other Identifiers:
Rights Society ASCAP
Pressing Plant ID PR
Matrix / Runout ST-A-794377-PR
Matrix / Runout ST-A-794378-PR
Matrix / Runout ST-A794377-1D
Matrix / Runout S TA794378-1B
Matrix / Runout STA 794377-1G
Matrix / Runout S TA794378-1A

Pressed By Presswell
Recorded At Atlantic Studios
Mastered At Sterling Sound
Mixed At Cherokee Studios
Recorded At Cherokee Studios
Manufactured By Columbia House
Phonographic Copyright (p) Atlantic Recording Corporation
Copyright (c) Atlantic Recording Corporation
Published By Somerset Songs Publishing Inc.
Published By Evansongs Ltd.

A9
Data provided by Discogs
Foreigner - Head Games (LP, Album, Club) (Near Mint (NM or M-))