Eric Clapton - Selections From Eric Clapton's Rainbow Concert (CD, Promo, RE, RM, Smplr, Dig) (Near Mint (NM or M-))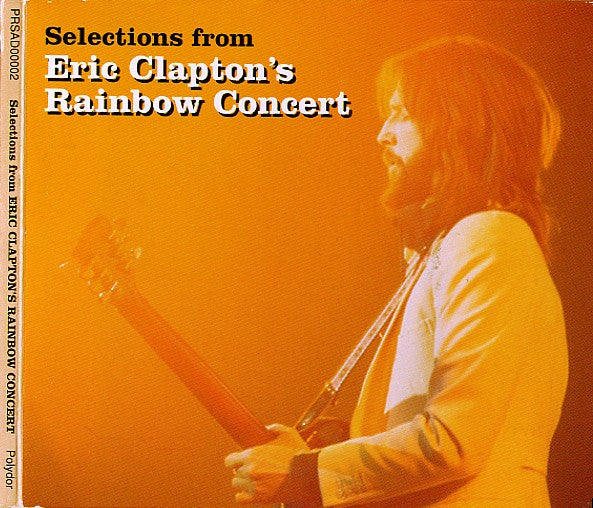 Description
Media Condition: Near Mint (NM or M-)
Sleeve Condition: Near Mint (NM or M-)
Like NEW copy of this 1995 Promo CD single. Disc and inserts near perfect.
 
Notes:
Recorded live at London's Rainbow Theatre, London, January 13, 1973 by Glyn Johns. 
Tracks 1, 3, 5, 6 previously unreleased.
From the Polydor/Chronicles compact disc and cassette <i>Eric Clapton's Rainbow Concert</i> 31452 7472-2/4
For Promotional Use Only - Not For Sale
Made in the U.S.A.  Printed in the U.S.A.

1. Layla 5:57
2. Badge 3:18
3. Blues Power 5:21
4. After Midnight 4:25
5. Bell Bottom Blues 5:23
6. Crossroads 4:09

Barcode and Other Identifiers:
Matrix / Runout PRS AD0 000-2 01%
Mastering SID Code IFPI L007

Phonographic Copyright (p) PolyGram International Music B.V.
Copyright (c) PolyGram International Music B.V.
Manufactured By A&M Records
Marketed By A&M Records
Remixed At Revolution Studios
Recorded At Rainbow Theatre London

CD12
Data provided by Discogs
Eric Clapton - Selections From Eric Clapton's Rainbow Concert (CD, Promo, RE, RM, Smplr, Dig) (Near Mint (NM or M-))