Electric Light Orchestra - Eldorado - A Symphony By The Electric Light Orchestra (LP, Album, Ter) (Very Good Plus (VG+))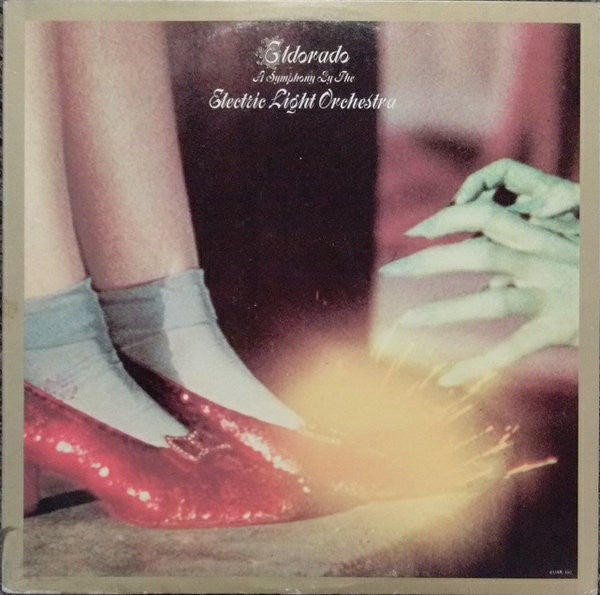 Description
Media Condition: Very Good Plus (VG+)
Sleeve Condition: Very Good Plus (VG+)
Nice copy of this 1974 LP. House in original picture sleeve with minor wear. Record is very clean and sounds great. printed inner sleeve included, has some staining/damage.
 
Notes:
Columbia, Terre Haute pressing with label variations including, but not limited to (•) between titles/times rather than (–)

Recorded at De Lane Lea Studios, London


©℗ MCMLXXIV United Artists Records, Inc
© 1974 Jeff Lynne Music, Ltd. / Carlin Music Corp.
All Rights for U.S.A. and Canada Administered by Yellow Dog Music, Inc.
Printed in U.S.A.

"Poor Boy (The Greenwood)" on back of outer sleeve and inner sleeve; "Poorboy (The Greenwood)" on label.

A1. Eldorado Overture 2:12
A2. Can't Get It Out Of My Head 4:26
A3. Boy Blue 5:17
A4. Laredo Tornado 5:26
A5. Poorboy (The Greenwood) 2:56
B1. Mister Kingdom 5:50
B2. Nobody's Child 3:40
B3. Illusions In G Major 2:36
B4. Eldorado 5:20
B5. Eldorado - Finale 1:20

Barcode and Other Identifiers:
Matrix / Runout T1 UA-LA-339-G-1-1 B.A.
Matrix / Runout T1 UA-LA-339-G-2 -2 TML-M
Matrix / Runout T1 UA-LA-339-G-1-1 B.A. B
Matrix / Runout T2 UA-LA-339-G-2 -2 TML-M A2
Price Code 0698
Rights Society ASCAP

Manufactured By United Artists Records, Inc.
Pressed By Columbia Records Pressing Plant, Terre Haute
Phonographic Copyright (p) United Artists Records, Inc.
Copyright (c) United Artists Records, Inc.
Copyright (c) Jeff Lynne Music Ltd.
Copyright (c) Carlin Music Corp.
Published By Yellow Dog Music, Inc.
Recorded At De Lane Lea Studios
Mastered At The Mastering Lab

BX9
Data provided by Discogs
Electric Light Orchestra - Eldorado - A Symphony By The Electric Light Orchestra (LP, Album, Ter) (Very Good Plus (VG+))