Earth Quake - Rocking The World (LP, Album, RE) (Near Mint (NM or M-))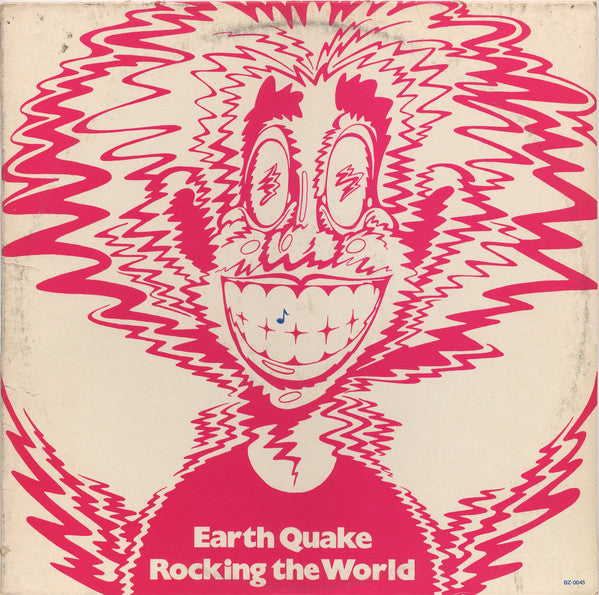 Description
Media Condition: Near Mint (NM or M-)
Sleeve Condition: Very Good Plus (VG+)
Nice copy of this LP. Record is a beauty. Sleeve has some aging on rear, promo hole punch top right corner.
 
Notes:
Recorded live throughout California with the assistance of the DSR Mobile Unit Mixed at CBS Studios, Folsom Street, San Francisco, California A1: Londontown Music Inc. ASCAP, A2, A3, B1: Tremor Music ASCAP, A3, B2: Unart Music BMI, B3: Dunbar Music/Oakfield Avenue Music BMI, B4: Ann-Rachel Corp./Yellow Dog Music Inc. ASCAP
A1. Route 66 2:51
A2. Power Glide Slide 5:04
A3. Friday On My Mind 6:47
A4. (Sitting In The Middle Of) Madness 5:10
B1. Mr. Security 4:44
B2. Tin Soldier 3:10
B3. Head Held High 5:13
B4. Ma Ma Ma Belle 6:53

Barcode and Other Identifiers:
Rights Society ASCAP
Rights Society BMI
Matrix / Runout BZ-0045-A-1E
Matrix / Runout BZ-0045-B-1E
Matrix / Runout BZ0045A-1B S1 A
Matrix / Runout BZ 0045 B-1B S1 A2

Phonographic Copyright (p) Beserkley
Copyright (c) Beserkley
Marketed By Playboy Records
Distributed By Playboy Records
Mixed At CBS Studios, San Francisco
Published By LondonTown Music Inc.
Published By Tremor Music (2)
Published By Unart Music
Published By Dunbar Music
Published By Oakfield Avenue Music
Published By Anne-Rachel Music Corp.
Published By Yellow Dog Music, Inc.

A15
Data provided by Discogs
Earth Quake - Rocking The World (LP, Album, RE) (Near Mint (NM or M-))