Blondie - Parallel Lines (LP, Album, RE) (Very Good Plus (VG+))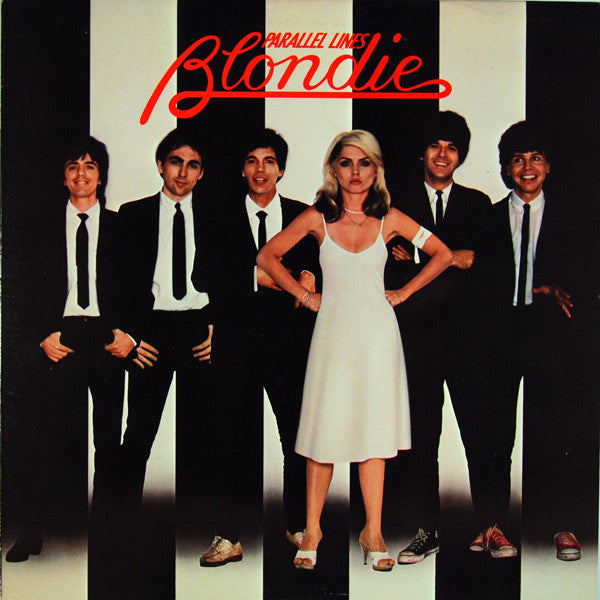 Description
Media Condition: Very Good Plus (VG+)
Sleeve Condition: Very Good Plus (VG+)
Great copy of this 1979 LP. Record is in nice shape and plays well. Jacket also in great shape with original shrink wrap (with hype sticker) covering 80% of cover. Includes original inner lyrical sleeve.
 
Notes:
This is the US second pressing remastered with a version of "Heart Of Glass" that runs 5:50 minutes long. This version was released in 1979 and added a sub-title of (Disco Version). Cover sticker refers to this version as the "uncensored" version.
Click here for the original US pressing with the same catalog number.

Recorded at The Record Plant, New York City
Mixed at Forum Studio, Covington, Kentucky
Mastered at MCA-Whitney Studio, Glendale, Calif.
℗ & © 1978 Chrysalis Records

Includes a printed inner sleeve with lyrics.
The inner sleeve includes lyrics to "Parallel Lines" by Deborah Harry, Copyright © 1978 Rare Blue Music, Inc. / Monster Island Music (ASCAP)

Track B2 is shown on the back cover as "Will Anything Happen?" (i.e. with a question mark at the end).
Track B4 is shown on the back cover without the parenthetical title.

All matrix / runouts are engraved / etched.
A1. Hanging On The Telephone 2:17
A2. One Way Or Another 3:31
A3. Picture This 2:53
A4. Fade Away And Radiate 3:57
A5. Pretty Baby 3:16
A6. I Know But I Don't Know 3:53
B1. 11:59 3:19
B2. Will Anything Happen 2:55
B3. Sunday Girl 3:01
B4. Heart Of Glass (Disco Version) 5:50
B5. I'm Gonna Love You Too 2:03
B6. Just Go Away 3:21

Barcode and Other Identifiers:
Rights Society ASCAP
Rights Society BMI
Matrix / Runout CHR-1192-AS
Matrix / Runout CHR-1192-BS
Matrix / Runout CHR-1192-AS-1C MCA-2 E1 25
Matrix / Runout CHR-1192-BS-1C MCA Sh A4 15
Matrix / Runout CHR-1192-AS-CT5 MCA Sh
Matrix / Runout CHR-1192-BS RE-1-2
Matrix / Runout CHR-1192-AS-1A MCA-1
Matrix / Runout CHR-1192-BS RE-1-1
Matrix / Runout CHR-1192-AS-1B x MCA-1 A 15
Matrix / Runout CHR-1192-BS X RE-1
Matrix / Runout CHR-1192-AS-1C MCA-2 XL 25
Matrix / Runout CHR-1192-BS X RE-1
Matrix / Runout CHR-1192-AS-1C MCA-2 SX 25
Matrix / Runout CHR-1192-BS X RE-1
Matrix / Runout CHR-1192-AS MCA Sh
Matrix / Runout CHR-1192-BS X RE-1

Phonographic Copyright (p) Chrysalis Records
Copyright (c) Chrysalis Records
Record Company Chrysalis Records, Inc.
Published By Rare Blue Music, Inc.
Published By Monster Island Music
Published By MPL Communications Inc.
Recorded At Record Plant, N.Y.C.
Mixed At Forum Studio
Mastered At MCA Whitney Recording Studios

A14
Data provided by Discogs
Blondie - Parallel Lines (LP, Album, RE) (Very Good Plus (VG+))
Regular price $18.99 Sale